Dress Shirt Collar Styles
It might be surprising to most people, but collar styles are the most important part of a shirt.
Think about it. The entire purpose of a shirt is to cover our torso, leaving tiddly bits of hands and, most importantly, the face uncovered. In fact, the entire purpose of our dressing is to focus all attention on the face.
Just imagine someone you fancy, without any clothes. Now where would your attention be….?
That means the collar has a VERY important role. It acts like a frame for the most beautiful masterpiece in the world, Your Face.
A well constructed picture frame
Draws attention away from itself
Focuses the eyes on the picture
Achieves proportionality
And most importantly, Flatters the picture!
And that is exactly what a collar is supposed to do. Do not wear collars that are the same shape as your face as they do not complement your face.
A shirt with a crisp, well-shaped collar, impeccable cuffs and luxurious cotton shows the world that your good taste.
Button Down
The button down collar was first worn by polo players in United Kingdom in the 1800s, and was introduced to America in 1896 by John Brooks, grandson of the founder of Brooks Brothers. Because of its sporting origins, the button down collar is mostly for informal use, and not meant to be worn with a tie. It is a favourite of academics, so, stay away from it in the office.
Informal button down collars are not suitable in the office
Suitable for...
Most facial types are suitable to wear button downs. However, they suit office workers who do not wear ties. Stay away from these if you work in banking, finance or sales.
---
Straight or Point
This collar is more formal than the button down, chiefly because it has no buttons on it, and is more stiffer due to collar stays

Collar stays used in shirt collars
As Heineken would say it, this is "probably the most popular collar in the world", due to its versatility. It looks great whether with or without a tie, and matches most facial shapes out there.
Very popular and easy to match point collars
Suitable for...
People who have wider and rounder faces. The narrow points provide a counterbalance.
---
Spread or British Spread
The point collars dressier cousin. There are differing terms for varying degrees of spread, so use your intelligence when choosing. In general, the wider the spread, the dressier the collar. Wear a tie, and use a larger double Windsor knot, as you need to fill out the space between the points.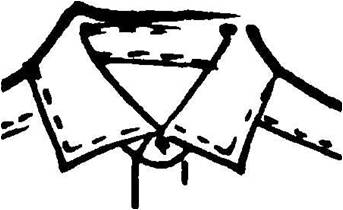 Spread collars are dressier and should be matched with large knotted ties
Suitable for...
People with long angular faces. Spread collars provide counterbalance by widening your long vertical lines formed by cheeks and jawbones.
---
Tabbed Collars
This tidy, some might even say constrained-looking, collar can nevertheless be flattering, especially on men with narrow or square faces (round-faced men may appear to be a bit choked). Its name comes from a snap (or tab) that connects the collar points behind the tie know. The purpose of the tab is to pull your collar tighter, and produce a tie knot with higher arch and prominence.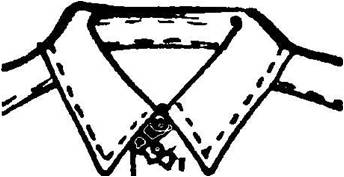 Tabbed collars push up the tie knot, producing a more elegant higher arch
Suitable for...
This is the best one for those with slim looks and round face. It has a slim spread. Behind the tie knot, there is a tab which brings together the collar together.
---
White Contrast
A white collar (usually paired with white French cuffs), so named because it contrasts with the patterned or colored fabric of the shirt's body and sleeves. Some say a contrast collar dresses up a shirt.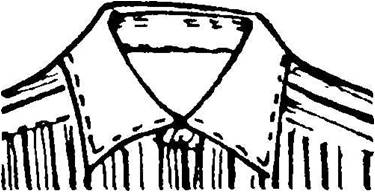 White contrast collars
---